AFL Players Association
Project details
Client: AFL Players Association
Collaborators: Ignite Online (Development), Greenroom Digital (Digital Marketing)
Deliverables: IA, UX/Website Design, User Testing
The AFLPA reached out to us to help them to plan and create a more user-friendly, and purposeful experience for navigating through the content rich AFLPA website. Along with the introduction of the AFL Women's league in 2016, our focus was to review and design an experience which was not only easier to navigate through content but engage with a new demographic through a refined design aesthetic.
It is the belief of the AFLPA that a core asset of the AFL and AFLW are its players and, as key stakeholders of the game, players deserve to continue to have their voices heard on all issues about themselves and the game.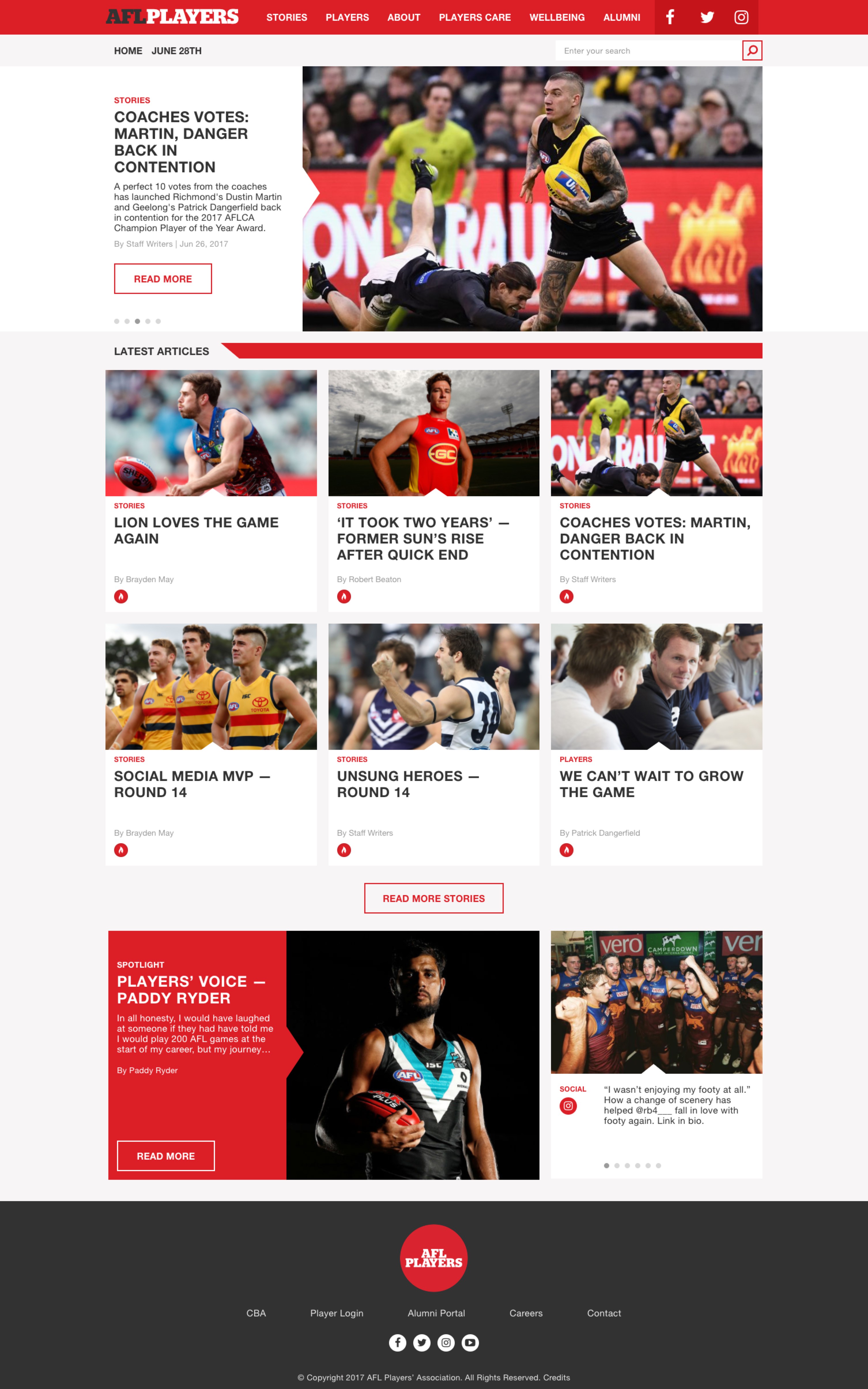 Project Scope—
Our main deliverables were user testing, strategy, information architecture, user experience design, and a digital style guide of the AFLPA website. We partnered up with good friends Ignite Online for the development.
The new site has increased website visits by +122%.
[videojs mp4=https://studioaco.com.au/wp-content/uploads/2017/05/AFLPA-Mobile-Vid-2.mov autoplay="true" controls="false" muted="false" loop="true" width="230" height="330"]
The Approach—
The site redesign was needed and realigned to ensure a more user-friendly experience, including a strategy to allow readers to find other content and hence keep users on the site. Active promotion of the website was also required to increase engagement and awareness of the AFLPA.
Testimonial—
"Sherwood were instrumental in finding clarity in the way the re-design of the AFLPA site was to be approached. No task was too difficult and they provided plenty of support and guidance throughout an incredibly important process.
Their research and planning was thorough and their execution of the re-design was well thought out and very considered. The result was a great success and is something for our business to be proud of.
We'll continue working with the team at Sherwood as a digital partner."
Simon Legg, Digital Editor
— AFL Players Association.